Childhood cancers are not the same as adult cancers and a child is definitely not a young adult. Children's body and the way they respond to treatment are unique. Malignancies like leukaemia, lymphoma and solid tumours are quite common in children.
Children with these conditions have special physical, emotional, nutritional and psychological needs. Childhood cancers needs to be treated in a child-friendly atmosphere by a dedicated team. They require the highest level of medical expertise and highly specialized medical treatment combined with very personalized support from their doctor and caring staff. Paediatric oncologists are the experts who treat children with blood cancer and cancer of other body parts.
Special attributes
BALCO Medical Centre is the only hospital in Chhattisgarh with a full-time paediatric oncologist and a dedicated paediatric oncology unit. There is a dedicated 8-bedded paediatric ward along with day care department. We are committed to build an overall positive experience of children and their families and support them in every possible way in their journey to fight with cancer.
Our doctors and staff are trained and experienced in supporting children during treatment for serious illnesses. Their skill and compassion can make all the difference for a child and family and help in renewing health and restoring hope.
Tata Medical Centre – BALCO Medical Centre has an association with TMC Mumbai, whereby we discuss our complicated cases with them in national cancer tumour board, if required, for second opinion. We can also guide and refer the families to TMH Mumbai, if more advanced tertiary care is required.
Paediatric Oncology OPD every Wednesday :
 Ekta Children's hospital: 9.30 am to 12.00 pm
 Bal Gopal Children's Hospital: 1.00 pm to 3.30 pm
After Completion of treatment (ACT) clinic – Follow-up clinic to monitor wellbeing and any long-term side-effects post completion of treatment.
Paediatric dietician from Cuddles Foundation – Unlike adults, nutrition plays an important role in treatment of children with cancer. Lack of adequate nutrition can have a negative effect on cancer treatment with immediate and long term side effects. We are fortunate to have a dedicated paediatric dietician to support children nutrition.
 Play area- We have a dedicated play area for children to engage them in various activities during their prolonged hospital stay.
 Indradhanush is our paediatric patient support group, where we communicate with parents to answer their queries as much as possible. Through this group, we organise regular activities for children and create awareness amongst parents. "SMILE "is our annual childhood cancer survivorship programme to celebrate the life of our little warriors.
Financial Constrains – Last but not the least cancer can come as a big financial burden for families as parents have to stay with children and often loose work. Treatment of cancer can be prolonged, expensive and if complicated cannot always be supported by Govt. schemes alone. Sometimes families are so poor that they cannot even afford initial investigations to make the diagnosis. We believe that every child has the right to treatment. We have some special funds to initiate investigations and to help very poor families. We also try to raise funds through NGOs to help us support them.

BMC offers treatment of all childhood cancers including:

• Leukaemia
• Lymphoma – Hodgkin's and Non-Hodgkin's
• Wilms' tumour, other kidney tumors
• Hepatoblastoma
• Neuroblastoma
• Soft tissue sarcoma
• Bone tumors
• Rare germ cell tumors
• Retinoblastoma
• Bone marrow transplant
Our Experts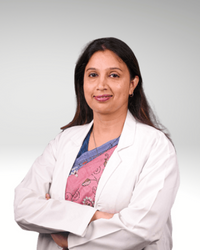 Dr. Ruchi Aujla
Paediatrics
Dr. Ruchi Aujla