Laboratory services at Balco Medical Centre constitutes of two sub-departments, Department of Oncopathology and Department of Microbiology. 
Department of Oncopathology

Early and accurate diagnosis is key to the accurate and effective treatment of cancer and oncopathology services provide the diagnostic backbone for oncologists. The department has in- house advanced pathology services including surgical pathology, frozen section, immunohistochemistry, cytopathology, hematopathology, flow cytometry, and clinical biochemistry.  
Histopathology- Histopathology has a central role in cancer care and pathologist helps in diagnosis of the cancer by studying the tissue, describe various parameters in reports such as grade, margin status etc. to determine the prognosis, provides the final staging of the cancer and also evaluate the response to therapy which help clinicians decide the treatment protocol. 




Immunohistochemistry (IHC)- Different cancer types have different treatment protocols. IHC is used for exact categorisation of the tumour (carcinoma/lymphoma/ sarcoma), to evaluate prognosis and behaviour of disease as well as in guiding the treatment (ER, PR, HER-2 neu, ALK, MSI, etc.). We are first private hospital in CG state to start in-house immunohistochemistry test with approx. 130 antibodies on board.




Frozen section help surgeons for Rapid Intra- Op diagnosis and margin assessment.




Cytopathology section deals with FNAC, fluid cytology, cell block preparation, PAP smears and rapid onsite adequacy checking in image-guided biopsy/ FNAC.




Hematology section deals with routine blood counts, peripheral smear examination, coagulation profile and clinical pathology. 

We have first in- house flow cytometry for diagnosis of leukaemia and CD34 stem cell enumeration. The department is planning to start MRD panels in near future.

Biochemistry- We have a dry chemistry platform for analysis of routine biochemistry parameters and we are also performing tumour marker assays to help clinicians.



We have a dedicated and experienced team of Oncopathologists trained at India's premier institutes like TMH, Mumbai, KEMH Mumbai and PGI Chandigarh handling the above departments and providing accurate reports with faster turnaround time. 
Pathologists are also an active members of Multidisciplinary tumour boards contributing in the Diagnosis, Predictive and prognostic outcomes and thus have a role in comprehensive patient care. We also have state of the art equipment and more than that, trained and skilled technicians to handle them. 
Services offered:

1.Histopathology
Small Biopsies
Medium Specimens
Large/ Radical specimens
Immunohistochemistry
Frozen section
Special stains (AFB, PAS, GMS, Mucicarmne, Alcian Blue, Congo Red etc.)
 2.Cytopathology
FNAC
Fluid Cytology for Malignant cells
Cervical Pap smears
CSF cytology
Special stain on Fluid/ FNAC
Cell Block preparation
Rapid onsite Adequacy Checking
3.Biochemistry
RFT
LFT
Electrolytes
TFT
HbA1C
Tumor Markers- CEA, AFP, HCG, CA125, CA19-9, PSA
Lipid Profile
RBS/Fasting / PP sugar
Ferritin
D- Dimer
Procalcitonin
Vitamin D 
4.Haematology

CBC



PS comment
PT/INR
APTT
ESR
Sickling test
Reticulocyte count
Flow Cytometry
5.Clinical Pathology

Latest technology/instruments or equipment used & its features

Histopathology- Fully Automated Platform from LEICA which is one of the leading company in Histopath tissue processing equipments for Tissue processing.



Histopathology has a central role in cancer care and helps in-  

Immunohistochemistry- Fully automated IHC platform from one of the leading company i.e Ventana Benchmark XT with approx. 130 Antibodies.




Frozen section- Cryostat machine from Leica to help surgeons for Rapid Intra- Op diagnosis and Margin assessment




Cytopathology- Sakura Cytospin for CSF and Urine




Hematology- 6 part Differential counter by Sysmex XN 350, 10 colored Beckmen Coulter- Navios EX Flow Cytometer. 




Biochemistry- Vitros Dry chemistry, Mini- Vidas, Biorad D-10



Department of Microbiology
Department of Microbiology is manned by experienced consultants along with trained, skilled and experienced technical professionals and offers services in the field of Diagnostic Microbiology, Clinical consultation in Infectious diseases and integrated antimicrobial stewardship, Hospital Infection Control and diagnostic stewardship. The department's diagnostic microbiology facilities include the following sections: Bacteriology, Serology, Mycology, Mycobacteriology, Virology, Parasitology, and Molecular Microbiology. The department also offers services in Environmental Microbiology (testing of water quality and air quality), and sterility testing of various sterile products. Currently, Molecular diagnostic tests offered by the department are accredited to the National Accreditation Board for Testing and Calibration Laboratories (NABL). The department has been felicitated by MoHFW and NHM for implementation of the best practices for antimicrobial, infection control and diagnostic stewardship program.
Facilities
Special Procedures / Operations

COVID-19 testing, Hepatitis B, Hepatitis C Viral load testing, Mycobacterium species detection and drug resistance testing, HPV virus detection by Real time RT-PCR (Closed system)



Our Experts
Dr. Sandeep Ojha
Histo Pathology
Dr. Sandeep Ojha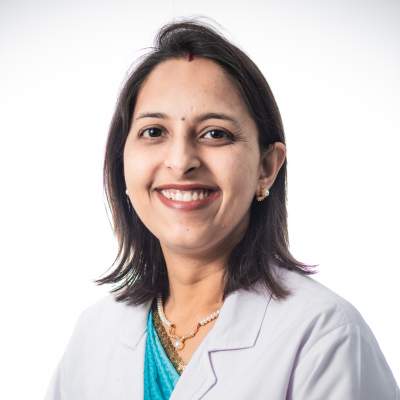 Dr. Shreshtha Tiwari
Microbiology
Dr. Shreshtha Tiwari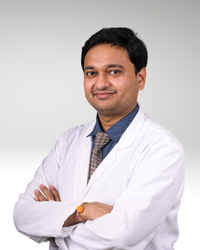 Dr. Nikhil Jain
Histo Pathology
Dr. Nikhil Jain