The Department of Anaesthesia & Critical Care in Balco Medical Centre, Naya Raipur provides multidisciplinary services to the patients by our excellent team of specialists. This is an integrated service department which provides the best possible care with the help of modern and efficient techniques, skills and knowledge to ensure complete patient safety, comfort and satisfaction in perioperative & pain management along with critical care. During the COVID pandemic, the critically ill patients were efficiently managed by the department.
Facilities

Intensive Care Unit

Balco Medical Centre's 35-bedded ICU is well-equipped with modern ventilators, High-flow nasal cannula (HFNC), multiparameter monitors, ultrasonography and echocardiography machine. The department serves critically-ill surgical patients, patients with acute medical illness, co-morbid conditions and patients with haematological malignancies, neutropenia and chemotherapy-related complications in SICU, MICU and isolation. These patients have complex problems like Sepsis, Acute respiratory distress syndrome (ARDS), and multi-organ failure, many having acute haemodynamic, respiratory and metabolic derangements. The department is equipped with super isolation rooms for providing better supportive care and management for the vulnerable patients.
The unit is having well-trained intensivists and nursing staffs to provide the entire range of intensive care services including airway management, mechanical ventilation, circulatory support including advanced haemodynamic monitoring, enteral /parenteral nutrition, blood component therapy, sedation, pain relief and other supportive measures.
The ICU has several quality assurance programmes and various protocols have been implemented to evaluate and improve the quality of care in the ICU.

Anaesthesia & Perioperative Care
The Anaesthesia service is involved with the peri-operative management of patients undergoing cancer surgery in the modular operation theatre complex for routine and emergency procedures, as well as in peripheral areas including emergency, radiotherapy, brachytherapy, endoscopy and radiology.
Our modular OT complex consists of 5 operating rooms, equipped with modern machines and equipment like Workstations, Fibreoptic bronchoscope and CMAC (Videolaryngoscope) for managing difficult Airways, Ultrasound and Fluoroscopy.
The anaesthetic management of patients undergoing extensive cancer surgery offers challenging problems including the management of difficult airway, acute haemorrhage, massive blood transfusion, anaesthesia for emergency surgery in patients with severe sepsis and haemorrhage. Our qualified and skilled anaesthetists administer anaesthesia to these patients with monitored anaesthesia care, performing invasive procedures and haemodynamic monitoring.
Post-op Recovery
All patients after major or minor surgical procedures are shifted to the recovery room for observation before being transferred to the ward. During this period they are  monitored by a team of anaesthetists and nurses, who perform an initial post-operative evaluation, pain management, manage any acute post-operative event and also decide when the patient is ready for transfer.
Pre-operative Clinic
Balco Medical Centre has designated PAC clinic to conduct pre-operative anaesthetic evaluation of patients planned for surgery. A team of anaesthetists evaluate the patient's medical condition and formulate an anaesthetic plan, taking into account the patient's physical condition. This is then discussed with the patient, including the risks involved and details of any procedures likely to be performed in the peri-operative period. 
Emergency Care
Balco Medical Centre provides 24X7 service in the ER for the patients with Palliative care emergencies, Acute pain and Critically & terminally-ill patients.        
Our Experts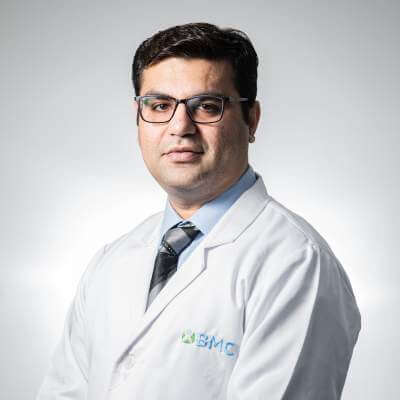 Dr. Santosh Tharwani
Pain and Palliative Care
Dr. Santosh Tharwani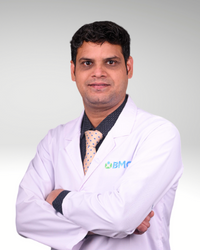 Dr. Devendra Kumar
Intensive Care
Dr. Devendra Kumar